Heads of Year 7...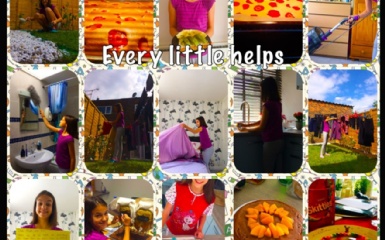 Year 7 Challenge Task - An Act of Kindness
Well done to all the Year 7 students who took part in week one of the challenge tasks, it was so heart-warming, but not surprising, to hear of all the kind activities the students were getting involved with.
The Year 7 Tutors and Heads of Year found it impossible to choose but eventually decided - well done to Ellen Charman Lodge of 7SEV who won the £10 voucher this week for her wonderful kindness towards her elderly neighbours, younger children and her friends.
Also in 7SEV Esther Armstrong sent her grandparents a lovely, colourful letter. Zakia Khassal in 7ADO has been helping her grandparent with shopping. Dexter Allworthy, 7SEV has been helping his younger sibling with work at home, as has Kevin Williamson in 7POB, Joseph McKeever in 7ADO and Megan Howe in 7MVN. Helping out with chores at home were Alexia Potcovuta and Sebastian Hajec from 7SAN, Merissa Marrin in 7CBY, Samantha Marshall and Lexi Price in 7GGR along with Liza and Zofia Gnatowska in 7MVN who help out at the allotment. Our intrepid Year 7 naturalists were Ava Gallup in 7ADO who spent hours rescuing young frogs and Jorga-Lena Marshall 7SAN who cared for a squirrel in the park. Busy making cakes or biscuits for their families were James Morrison in 7KHO and Tommie Hampton in 7KSI while Chloe Forward 7CBY waited table and wrote a beautiful poem for her parents' anniversary. Leaving chocolate gifts for the refuse collectors as a thank you was Bhupen Agrawal in 7GGR while writing notes on chocolate bars for friends was Freya Dodimead in7EFA. Laith Ali in 7SAN sent a special thank you to his teacher as well to make her smile.
What a fantastic list of acts of kindness carried out by the fabulous students of Year 7 - well done to everyone who took part and we look forward to your challenge task entries during future weeks.
Heads of Year 7 and Year 7 Form Tutors
It was great to have so many lovely entries from our Form challenge.
Year 7 were asked to put together a collage of items they could find in their home that originated from other countries. We had items from all over Europe, many different islands, Africa, Vietnam, Thailand, Brazil, Mexico, India, America, Sri Lanka, China and many more. Items varied from clothes, tools, food and many different decorative items.
It goes to show how aware our students are of the value our different cultures have in our society. Our students are so inquisitive and have a real passion for learning about these cultures. It is a pleasure to see so many of our students getting involved and excited about the items they found.
Many also enjoyed recalling lovely memories from the items including the knowledge about their origin. We look forward to our next competition where the students will be engaging in a world wide cooking challenge!
What can our Year 7 students create next week that has come from anywhere around the world? We look forward to seeing their creations!
Mr Bignell
To see this article in full, with accompanying imagery, see pages 19 and 20 of the June edition of the Headteacher's Newsletter.