National Apprenticeship Week 2020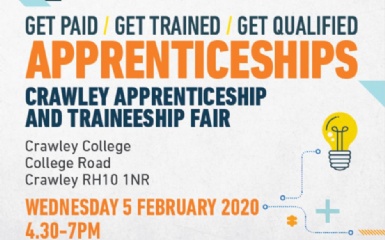 National Apprenticeship Week 2020 takes place from 3rd to 9th February 2020.
This annual celebration of apprenticeships will bring the whole apprenticeship community together to celebrate the impact of apprenticeships on individuals, employers and the economy.
Hazelwick students will be participating in a range of activities – look out in next month's newsletter for details.
There are a number of events locally that are taking place.
An apprenticeship is a paid job with training. You must apply for a vacancy and be successful at an interview. Qualification levels range from Level 2 (GCSE) to L7 (postgraduate). Pay varies from £3.90ph (£4.15ph from 1/4/20) to £20,000pa depending on the level, role requirements and chosen industry. Many large employers have an application period over Christmas and the Spring. Check for closing dates:
amazingapprenticeships.com/vacancies