News & Activities from Heads of Year 10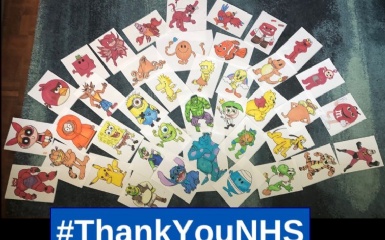 Lots of projects have been happening over the last few weeks! The rainbow (see image above/on the right) will make up a window display in support of the NHS. Mrs Thomassen has been hand drawing and rendering each of the characters to form the display.

Miss Morgan has been working on getting her overgrown allotment up and running to grow lots of lovely food. So far she's got rhubarb, beans and potatoes growing, Early stages yet with the food but it will be interesting to see the progress!
Mrs Opperman has bought herself a new skateboard and has been trying to learn some new tricks! Lots of bruises, but also lots of fun and good exercise.
Mrs Reynolds has been busy nurturing and growing fledgling courgette plants. We look forward to seeing how they grow!
Tristan Pereira-Leeatin (10RGR) - 'During lockdown I have been preparing my garden for summer and whilst doing that I have learnt new skills. I have learnt how to cut the grass in a pattern, I even learnt how to use a pressure washer which I have found out is very powerful, it nearly blew me away but it was worth it because it was very fun and also I learnt how to edge the pavement. I feel now I am a qualified gardener and I'm free to do anyone else's garden!'
Lots of our Year 10's have been taking part in a range of activities as well as learning new hobbies and skills.
Watch this space!
Well done to all of you and we look forward to seeing what you get up to over the next couple of weeks.
Mr Salmon, Mrs Thomassen and Mrs Dennett