Year 7 Have Fun in Calshot...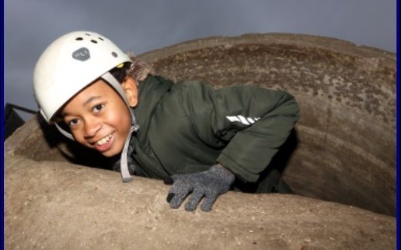 Ellie Smith 7SEV - I liked the rock climbing and the skiing because I got to the top of the wall and I have never been skiing before, I was really excited and it was really fun.
Maya Taylor 7KSI - The best activity was rock climbing because I overcame my fear of heights. I had to show determination to overcome my fear and was almost able to make it to the top of the wall. It was really good to see Miss Silva skiing as well and seeing her falling over but never giving up.
Samir Uddin 7KSI - My favourite activity was archery and I was quite good at it. I liked it because it was fun and everyone had a turn and it was a great team bonding exercise.
James Hill 7KHO - I got over my fear of rock climbing because I got halfway and was scared but the next time I got to the top. I learnt how to ski better.
Leonarda Casale 7KHO - Calshot was fun I overcame my fear of heights and got to the top of the wall both times. In archery I started being the lowest and made it to third place.
Isabel McFall 7POB - I overcame my fear of tight spaces and darkness in the team building tunnel. I hit the bullseye in archery.
Kevin Williamson 7POB - I really enjoyed Calshot because the instructors were really nice and they helped me overcome my fear of heights.