School Uniform
Hazelwick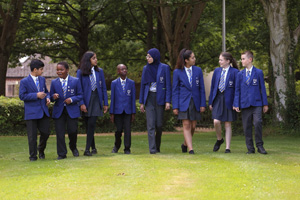 is distinguished by its uniform which is smart work wear that gives students a feeling of belonging to the school and is viewed very favourably by the wider community.
All students wear the school blazer and tie, as well as the school PE kit. School uniform is sold by our supplier – Broadbridges. Items can be purchased online (www.broadbridges.co.uk) or by visiting their retail outlet in Horsham or Haywards Heath.
Years 7 - 11
Blazer *
Regulation royal blue, single breasted with badge.
Skirt *

Regulation PLAIN medium grey cloth – two styles available

Skirts must be of a modest length: from not more than 15cm/6" above the knee when kneeling down to mid-calf - not ankle length. All skirts must be purchased from the school supplier.

Trousers *
PLAIN medium grey cloth, straight leg style.
Shirt/Blouse
PLAIN white with collar which can be buttoned up to the neck, suitable for wearing with a tie; long or short sleeved. To be tucked in at all times.
Jumper *
Regulation navy blue V-neck jumper (either long sleeved or sleeveless) – both styles available from the school supplier. No alternative jumpers are to be worn. School jumpers are not to be worn as an alternative to the blazer. This is an optional item.
Tie *
Regulation school tie (coloured stripe according to the Year Group).
Shoes
BLACK plain formal shoes – No trainers, no platforms or stiletto heels.
Tights
Neutral, plain black or navy opaque tights may be worn.
Socks
Plain black or white ankle socks when worn with a skirt.
Note: Items marked with an asterisk (*) must be purchased from Broadbridges (www.broadbridges.co.uk).
Muslim students from families for whom the wearing of the Hijab is important are allowed to do so, providing the Hijab is in the approved school colour and size. Sikh turbans (in approved school colours) are also permitted.
Students are prohibited from wearing all jewellery except a watch and one set of small, plain earrings (worn in the lower lobe of the ear only). Nail varnish, false nails and charity bands are not allowed.
Hair must be worn in a style which, in the judgement of the school, is appropriate for the formal uniform situation and the school workplace. An unnatural striking appearance (shaved patterns, coloured streaks, dyeing, bleaching, extensive braiding, beading or haircuts shorter than a number 2) is inappropriate. If in doubt, please speak to your child's Head of Year. In a very few cases, because of hair type, functional braiding may be appropriate. Advice must be sought in advance of styling, since the style is not allowed unless permission has been granted by the school.
Make up should be discreet and light (at the discretion of the school staff).
Replacement ties can also be purchased from the school's main reception.
Hooded tops of a sweatshirt material (zipped or otherwise) are not allowed to be worn to school.
Sports Wear
Hazelwick unisex sports polo shirt or girls fit sports polo shirt *
Hazelwick reversible sports shirt (rugby shirt) *
Hazelwick black shorts *
Royal blue sports socks (can be purchased from Broadbridges)
Trainers
Football boots
Shin pads (highly recommended)
Gum shields (highly recommended)
Black unisex tracksuit bottoms or girls fit tracksuit bottoms (optional) *
Black leggings (optional) *
Base layer top (optional) *
Sports skort (optional) *
Note: Items marked with an asterisk (*) must be purchased from Broadbridges (www.broadbridges.co.uk).
Sixth Form
The sixth form's special place in the school is marked by the wearing of a different uniform, the main components of which are:
Males
Formal black suit
Sixth form tie (from the 'school shop')
Formal plain black trousers (straight-cut)
Formal plain white shirt (tucked in at all times)
Plain black V-neck jumper or waistcoat (optional)
Plain black formal shoes (trainers not permitted)
Females
Formal black suit
Black skirt (smart and modest length - non-cling and no excessive slit) or smart straight-cut or bootleg trousers (not leggings or jeans)
Formal plain white, buttoned shirt/blouse
Plain black V-neck jumper or waistcoat (optional)
Plain black formal shoes (trainers, boots and sandals not permitted)
Note: No big earrings, wide belts or excessive jewellery are allowed, as well as obvious nail varnish and obtrusive make-up. Male sixth formers are reminded that ear jewellery is not permitted and that hair must not touch the collar or be aggressively short (i.e. no shorter than a No. 2 cut). 'Extreme' hairstyles are not allowed.