An Introduction to Oxbridge for Year 11 Students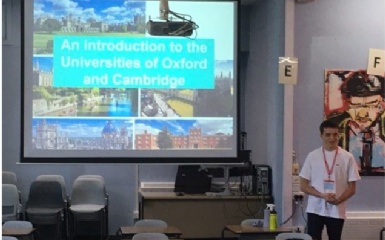 On Monday 29th March, we welcomed a former student – Louis Brettkelly – back to Hazelwick. Louis gave a very helpful and comprehensive presentation to Year 11 students about how to apply to Cambridge and Oxford Universities. He also spoke in detail about what life at Cambridge University is really like, dispelling many of the myths such as why studying there is actually no more expensive than at any other university.
Louis reminded us that around 70% of students who apply to Oxbridge receive an interview, and around a third of those who are interviewed then go on to be offered a place. Whilst high A level grades are obviously important, what matters more is your ability to demonstrate your passion for your subject. Students should look to maximise their 'super curricular' studies through independent learning. Useful resources to facilitate this include the Oxford and Cambridge websites, Google Scholar, mooc.org and Oxplore.org

Listening to podcasts and watching TED talks about your preferred subject will also broaden your analytical knowledge and will demonstrate your interest and enthusiasm.

Year 11 students may also be interested in an Oxbridge webinar which aims to explore how to balance academic workloads and how to deal with the transition to Year 12. It will also discuss how to look after your mental health both in and out of school. Another interesting webinar aimed at Year 10 students explores the implications of your A Level choices on possible future university options. In order to apply for either of these webinars, please visit Oxbridge Webinar Series: Year 10 & 11 | St Catharine's College, Cambridge.

Many thanks again to Louis for giving up his time to speak to us. It was an insightful and very useful session for us all.
Ms S Gratton