Careers Café...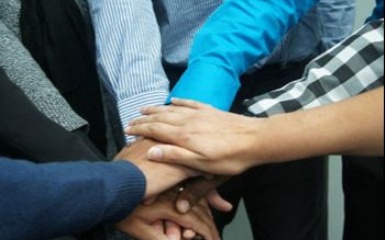 In this section, we bring students, parents and carers information on careers and the world of work...
Year 9 Be the Change
Students on the Be the Change programme met their business mentors again this month for further focussed discussions on their future.
Monthly Key Skills Focus
Each month this year, we will focus on a different employability skill. These are the skills that you need for the world of work – and they are pretty important for life as well! By developing employability skills, you will improve your chances of getting a job and thriving in your career. There are lots of different ways to develop them – including in lessons or extracurricular activities at school, in a Saturday or holiday job, doing projects in your own time or work experience.
This Month's Skill: Teamwork
The ability to get on and work with others is really important to employers. This is an important employability skill because, unless you get a job where you're not expected to speak to a soul all day (unlikely!), it's pretty crucial that you can work well as part of a team.
Most jobs involve interacting with colleagues and you'll do well to prove that you're confident in a group and that you enjoy working with others.
Practical examples you could put on your application to demonstrate this employability skill include playing in a sports team, joining an after-school club, or being part of a scheme like St Catherine's Enterprise Challenge, Scouts or Guides.
National Apprenticeship Week 2020
Student awareness and understanding of apprenticeships was increased through a number of recent activities.
These included:
A Year 10 assembly
Two workshops for Year 11 students to support them in applying for opportunities
A mock assessment centre workshop for Year 13
Form time activities
Departmental displays
Year 12 Open doors visits
Helen Mallows from Ask Apprenticeships delivered the workshops and assembly.
Chance Hayden (13SRE) reflected on his experience of this:
"On the 5th February, my peers and I were privileged enough to be invited to attend the apprenticeship workshop to develop our understanding of how a company decides who they take on as new apprentices and how we can use our body language, vocal communication and other subtle skills to become more attractive candidates. The workshop was highly educational, teaching us new skills, phrases and techniques that will greatly benefit us when utilised in an interview or any other formal environment. This was accompanied by a friendly and clear delivery from the presenter, who offered further explanations to those who needed them and created a comfortable environment for us to practice these newly learnt skills and see their effectiveness for ourselves. I would highly recommend attending the workshop for anyone who is interested in seeking an apprenticeship as the information provided gave us a clear understanding of the inner workings of corporations and their selection process. I would also recommend this to those who may not be planning on applying for an apprenticeship, as the skills that we learnt in the workshop could be applied to a range of scenarios one may face in the course of their education or career. "
For further information visit:
BDO Apprenticeship Information Evening
BDO, a global accounting and professional services firm and winners of Best for Skills Development at the School Leavers Awards are holding a free Apprenticeship Information Evening in Gatwick. This event aims to support Year 12 and 13 students in developing apprenticeship knowledge in a leading sector as well as point them towards BDO degree level apprenticeships in Gatwick. A range of apprenticeship options are available that result in Audit, Tax & Advisory roles.
The event is for students, parents and carers and is on Thursday 5th March 2020, 5:30pm – 7.30pm at BDO LLP, City Place, 2 Beehive Ring Rd, Crawley, Gatwick, RH6 0PA.
Hear from current BDO apprentices about their experiences participating in this exciting programme
Presentation on the opportunities on offer at BDO
A workshop helping students develop key skills needed to thrive on this apprenticeship programme
Information and tips on how to achieve success at the assessment centre
Networking with the BDO recruitment team and trainees from the business
Please note that BDO apprentices are required to have 3 x A-Levels or equivalent at Grade A-C and a 9-4 in Maths and English at GCSE.
BDO will consider extenuating circumstances on a case by case basis.
If you are interested in this opportunity please email Daniel George (daniel@mykindafuture.com)