Hazelwick's 2024 School Musical Auditions Begin!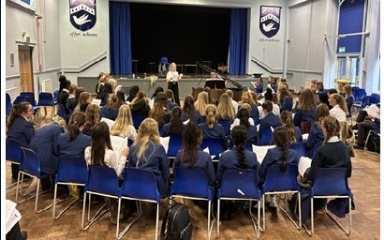 After a slight change to the proposed musical due to such a fabulous turn out from our Key Stage 3 students, the audition process for 'Annie' began in the last week of September. Over 70 students gathered around the piano in South Hall as Mr Bayliss and Miss Moore taught the eager students the audition song, 'Tomorrow.' A large group of students have also already expressed an interest in being part of the creative and technical team for the show; there is already an excited buzz around the school for this year's show
Individual auditions will begin in October, with parts announced and vocal rehearsals commencing on Wednesdays from mid-October. The school show is scheduled to take place in the first week of July 2024, with evening performances on Wednesday 3rd, Thursday 4th and Friday 5th July.
Ms Grubb