Hazelwick's Lit In Colour Pioneer School Launch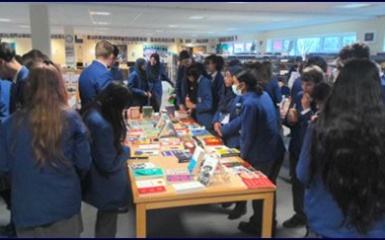 Lit in Colour, created by Penguin books and the Runnymede Trust, believe that 'books create belonging. They help us see each other and understand one another. They shine a light on the world.' Their mission is to ensure that the literature we read in our formative years reflects the rich diversity of the society we live in. As part of our work to diversify the curriculum and promote inclusive and inspiring stories, we secured an exciting library donation of 300 new books suitable for KS3-5 from Penguin.
On Tuesday 7th March, we launched our new books with a celebration breakfast, with 50 students selected by the English and literacy team. Not only will this help to develop reading personal habits across new genres, writers and issues, but it will enable the rest of the cohort to benefit from their review of the new books before they are integrated into the library to be borrowed and enjoyed by all.
Should you wish to learn more about the Lit In Colour project, or to access free suggestions to diversify your bookshelf at home, you will find more information and the research report at:
https://litincolour.penguin.co.uk/
Ms Bansal