House News...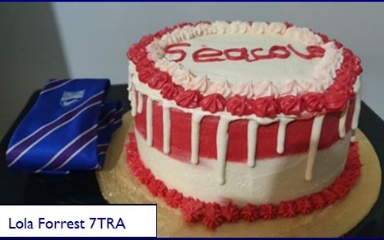 March has been a busy month for all of us, with many virtual house events taking place during home learning creating plenty of opportunities to win points for your house and even potentially a purple slip for yourself! It also marks the return to school and hopefully some face-to-face house events soon!
Remote Baking Competition
One highlight of lockdown for me has been channelling my baking skills. Mini egg cookies are my current speciality so I was delighted to see Miss Khan run a remote baking competition so that I could take inspiration from all of your wonderful bakes! Miss Khan was delighted with the entries and I think I speak for us all when I say I wish we could taste them. Well done to all who entered and congratulations to the winners! Fingers crossed we can channel your skills for a bake sale soon.
Caption that Picture
Whilst still in lockdown, we were very lucky to have Miss Hammans' 'Caption that Picture' competition to provide some comic relief! This competition saw many of you submitting hilarious captions for the atached photos. Miss Hammans had great difficulty picking the winners buthere are the final results: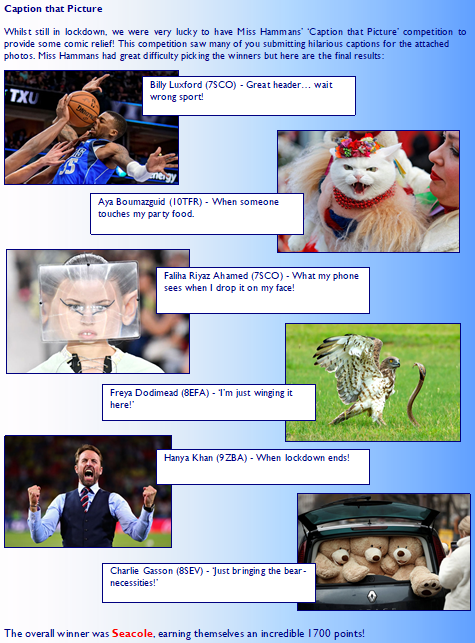 I hope everyone has had a great first few weeks back at Hazelwick.
After Easter we will be starting to run House events again so be on the lookout for information about these!
Remember that every entry makes the difference for your house and provides an opportunity for you to earn a purple slip!
Miss Pearson
Equiano House
To see this article in full, with accompanying imagery, see pages 12 - 14 of the March edition of the Headteacher's Newsletter.