Legal Eaglets Fly...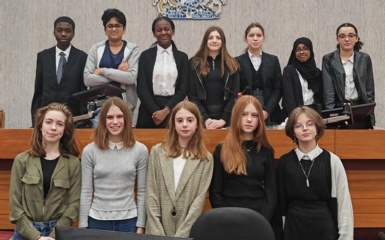 12 students from Years 8 and 9 attended Guildford Crown Court on Saturday 18th March to compete in the Sussex and Surrey heats of the national Magistrates' Mock Trial Competition run by Young Citizens. The competition aims to give participants experience of a criminal trial and the different people involved, students fulfilling the roles of barristers, witnesses, court staff and Magistrates. One school prosecutes while the other defends, every member of the team being scored on their performance.
The case is given to schools well ahead of the competition to allow thorough preparation. This year's case- R v Rowe- concerned an incident at a party. Jamie Rowe was charged with being in possession of a lump hammer in a communal courtyard, thereby having an offensive weapon in a public place contrary to section 1 of the Prevention of Crime Act 1953. The prosecution's case was that there was historic bad-feeling between Rowe and the alleged victim, Max Thomas, and this par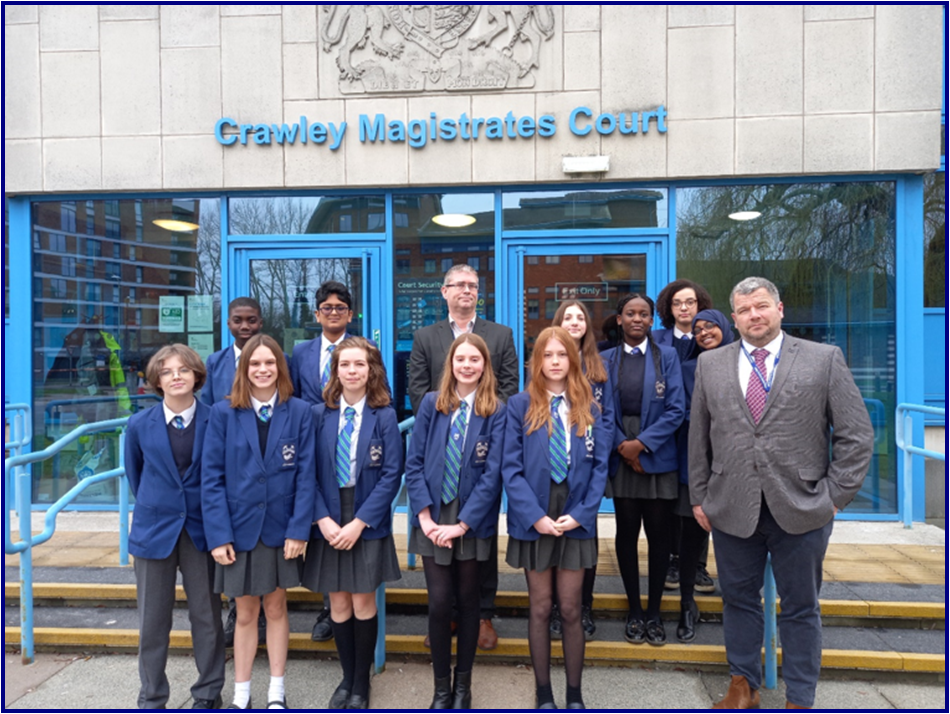 ticular evening, Rowe decided to threaten Thomas with the hammer. The defence argued that Rowe had a reasonable excuse to be in possession of the hammer, having to take it out of the house to prevent a very angry Max Thomas grabbing it from them.
In our first trial, students had the job of prosecuting. Witnesses Natalie and Tanmay (Max Thomas) gave their evidence very well and stood up to challenging cross-examination from the defence. Barrister Adam asked helpful, probing questions, as did Caitlyn, who additionally made an opening speech which was extremely clear and persuasive. Nox made sure the court ran smoothly as the Legal Adviser and Magistrates Kira, Olivia and Ridha joined other Magistrates to weigh the evidence, returning a not guilty verdict.
The second round was our turn to defend. Ayisha (Jamie Rowe) stood up to some fierce questioning by the other school, standing her ground convincingly and was ably supported by Megan. Barristers Annabelle and Violet asked all the right questions of their witnesses, Violet making an impassioned closing speech to the Magistrates on why they should not convict- which they duly followed.
While we did not win, the level of performance was excellent and lots of insight gained about the criminal justice system. For some, it may prove to be the starting point for their career in law. We were extremely grateful for the support of Scott Weller, a Magistrate who helped our preparation and to Ms Harrison who gave up her time to help the team.
Hazelwick will return to the court room next year!
Students currently in Years 7 and 8 will be able to audition to be part of the team late in the Autumn term.
Mr Thomas
Caitlyn Pelissier - 9STU, Violet Mazanzi - 9SRO, Ridha Mafaas - 9SCO, Ayisha Hubbard-Jefang - 9DMA, Adam Amolegbe - 8APA, Anabelle Stewart - 8SBA, Olivia Mecinska - 8SBA, Kira Kazemyr - 8SBA, Megan Byrne - 8SBA, Natalie Van Hoven - 8SBA, Tanmay Nutakki - 8APA, Nox Collins - 8SBA