Meet Hazelwick's Young Enterprise Company - Plutus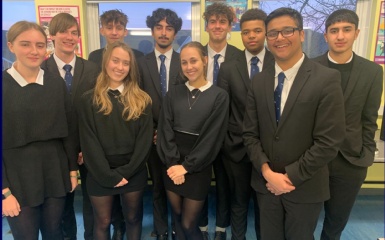 My name is Toby Jones. I am a Year 12 student who was voted as the Managing Director of the Young Enterprise Company Plutus. We are very excited to have the opportunity to follow the 'Young Enterprise Company Programme' this academic year. The Company Programme empowers young people to set-up and run a student company under the guidance of a business volunteer. We make all the decisions about our business from deciding on our company name to managing our finances and selling to the public. We gain practical business experience, an entrepreneurial mindset and employability skills.
Our company, Plutus is run and directed by eleven Sixth Form students from the Business and Economics department. Every week, we meet with our business advisor and link teacher to share ideas, manage the operations and finances, discuss our product/s and build our knowledge and skill set on running a business. In the near future, we will begin production of our product/s and hope, not only to distribute our product at school, but to also compete against other Young Enterprise businesses nationally as well as attending business fairs to promote and sell our products. The appeal of competing against other schools was one key factor as to why the team applied to be part of this journey.
The focal point of our business is sustainability and environmentally friendly practices. This means using recyclable materials in our products, developing a sustainable production process using local suppliers and spreading the message about the importance of sustainability. We are also committed to raise money for local charities and have decided to give half of our profit to charity.
We hope you will see more of Plutus in the near future and get to experience the products we are so excited to announce!
Toby Jones 12CDO