Oxbridge Workshop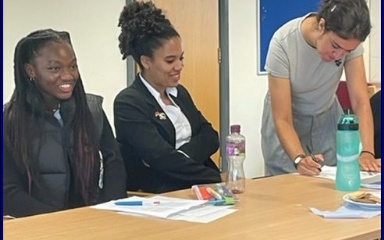 On Wednesday 21st September, our Year 13 students who have applied either to Oxford or Cambridge universities were invited to attend an Oxbridge workshop. We were delighted to welcome back three of our former students – Supriya Finch, Amy Hill and Ebrahim Jadama - all of whom have secured a place at either Cambridge or Oxford this year.
Students were given advice on: the application process; the timeline for early applications; how to manage the interview; revision advice and how to avoid distractions whilst studying. Some useful tips for avoiding distractions which are relevant to all included: set a timer for a specific length of time and don't stop revising until the timer goes off; give potentially distracting electronic devices to someone else whilst you are revising; make sure you get a good night's sleep the night before an important exam; and don't forget to have breakfast on the morning of an exam.
I am really grateful to Amy, Ebrahim and Supriya for giving up their time to help our current students. They are inspirational role models for other Hazelwick students and I would like to thank them for passing on their invaluable wisdom and knowledge to our next cohort of Oxbridge applicants.
Ms. Gratton