Read On!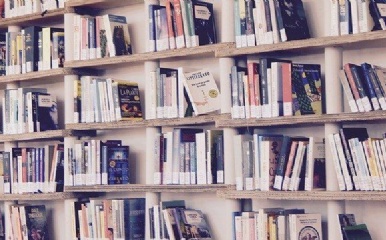 For this month's newsletter, I thought I would highlight some authors that may be new to you. Discovering a new author can be an excellent way of widening students' reading in terms of genre or encourage students who are rereading the same series to try something different. ('Harry Potter' and 'Wimpy Kid' fans spring to mind). As Year 7 and 8 students may now quiz at home, I have included the AR book level and quiz number.
The Taylor Turbochaser by David Baddiel
David Baddiel is an excellent comedy writer and he writes for young people too. I recommend his books to students (and parents/carers) who are looking for an author who writes funny books like 'The Diary of a Wimpy Kid' and David Walliams. I have selected this title by Baddiel as it also has an important message about empathy and gives a positive portrayal of a disabled person. The central character Amy is a wheelchair user and her best friend Rahul designs a new supercar for Amy. This is the start of Amy's adventures with her turbochaser!
AR LEVEL 6.0 AR QUIZ # 237469
Shadow and Bone by Leigh Bardugo
American author Bardugo is fast becoming a big name in fantasy writing and has topped the New York bestseller list. Her books make the perfect 'moving on' series for students looking to make the jump to young adult fiction titles. I would recommend her titles to 'Harry Potter' and 'Percy Jackson' fans. This is the first title in the 'Grisha' series and is also known by the alternative title ''The Gathering Dark'. Young Alina is a young orphan girl who has magical powers that she must harness if she is to defeat the political elite that controls the nation of Ravka.
AR LEVEL 5.4 AR QUIZ # 226122
The Treehouse series by Andy Griffiths
Andy Griffiths is a renowned Australian children's author who has won several book awards in his native country and has topped the New York bestsellers list. His 'Treehouse' series has proved very popular with the Year 7 and 8 students who are looking for alternative funny books to read. Terry Denton's quirky illustrations will appeal to fans of the 'Wimpy Kid' and 'Tom Gates' series. In this first book, an author and illustrator live in a secret treehouse and are trying to write a book together. Their writing is hampered by the fact that they live in an amazing treehouse, which has a giant catapult and a secret lab, and the story relates some of their adventures.
AR LEVEL 3.9 AR QUIZ # 228559
The Star of Kazan by Eva Ibbotson
Ibbotson was a writer of skill and great imagination and her books went out of fashion but they have found a new lease of life with the students who have an AR reading level of 6 plus. This is one of my favourites for the simple reason that it is a great adventure story with a historical backdrop and a mystery to solve. The story starts in 1896 where an abandoned baby is found in a church in the Alps. The child, named Annika, grows up dreaming that her mother will come back to claim her. Annika's life is turned upside down when a woman claiming to be her mother arrives to take her home.
AR LEVEL 6.1 AR QUIZ # 207575
Legend by Marie Lu
This is my recommendation for the fans of the 'Hunger Games' and 'Maze Runner' series and dystopian fiction. This is the first book in the 'Legend' stories, a sci-fi series based upon the 'Les Misérables.' The United States no longer exists and North America is two nations at war. The story has two teenaged central characters, June and Day, who meet by chance, totally unaware of their connection. Will they discover the truth about each other's past? Several Year 10 students have highly rated this series, eagerly requesting the next book in the series. Please note that the story does contain several scenes of violence and torture.
AR LEVEL 4.8 AR QUIZ # 221812
Robin Hood : Hacking, Heists & Flaming Arrows by Robert Muchamore
This is a huge departure for the author of the popular 'CHERUB' and 'Rock Wars' series but I do not think Muchamore's fans will be disappointed. This is a re-imagined version of the Robin Hood legend with a modern day setting. I think the author has skilfully re-worked the characters, keeping their traditional personality traits. Robin and his brother Little John are hounded out of their home when their Dad is framed for a robbery. Forced to live in Sherwood Forest, the brothers must battle against the profit-fixated Sheriff and the underworld boss, Guy of Gisborne. Please note that this title contains scenes of violence. This title has yet to be added to the Accelerated Reader programme.
Fergus the Furball by Emily Snape
Emily Snape is a freelance illustrator and I think she will develop her own fan base with her funny stories and distinctive illustration style. Students who like books from the 'Laughing Out Loud' and 'Animal Stories' sections of the library will enjoy this tale of a very unusual guinea pig. Daniel is so disappointed that he doesn't get the pet he was hoping to get for his tenth birthday that he actually wishes that his brother was a guinea pig. Sometimes wishes do come true and Daniel must discover how to turn his brother back before his parents return home.
AR LEVEL 4.3 AR QUIZ # 237666
Murder Most Unladylike by Robin Stevens
This is a must-read series for fans of Enid Blyton, Elinor M Brent-Dyer and stories set in a boarding school. This mystery series is set in the 1930s (the author is a huge Agatha Christie fan) and in the first book we meet Deepdean School for Girls students Daisy Wells and Hazel Wong. The girls have set up their own detective agency but have had very few cases to solve until Hazel discovers the body of the Science Mistress! When the body disappears, the detective duo have to prove that there has actually been a murder, let alone solve the case! Please note that Hazel does receive some xenophobic comments but this is in context with the historical period.
AR LEVEL 5.8 AR QUIZ # 226731
The Pure Heart by Trudi Tweedie
On the strength of her debut novel, Trudi Tweedie is on my list of 'ones to watch'. This title is written for Key Stage Four and Five students and is horror/mystery story. I will be recommending this title to the fans of the 'Red Eye' and 'Mortal Instruments' horror series. Iseabail is sent from the island of St Kilda to the mainland to work as a companion. As Iseabail adjusts to her new life, she soon discovers she is living in a house full of secrets and things take a sinister turn when the master of the house returns home with a mysterious cargo. The author has such a compelling writing style that makes the reader want to read the book in one sitting, and they will not be disappointed as the story twists and turns along the way. This title has yet to be added to the Accelerated Reader programme.
Fantastic Fiction website
The 'Fantastic Fiction' website is a very useful book website. It will give a list of all the fiction titles written by an author and details of the series order. Other useful features include the 'Coming Soon' and 'New Books' search options. You can narrow your searches by using the genre search box and this is where you will find the 'Young Adults and Children's Fiction' option.
https://www.fantasticfiction.com/
Random Reads!
Here is an activity you may wish to try at home when students (and family members) are stuck as to what book to read next based on my 'Random Reads' jar in the library. Have all family members write random reads suggestions on a piece of paper and pop them into a bowl or cup. Each family member picks out one random read and then finds a book matching the suggestion on the understanding that they will have to read the book! I have given you some examples to start you off but I am sure you will come up with some very creative random reads of your own!
Random Reads examples:
· Choose a book with a blue book cover
· Choose a book with an animal on the cover
· Ask the eldest family member to select a book for you
· Ask the youngest family member to select a book for you
· Choose a book by an author that you have never read before
· Choose a book with a person on the cover
· Choose a book from your least favourite genre
· Choose a book with at least five words in the title
· Choose a book without reading the back of the book blurb
· Choose a book by an author that has the same initial as your first or surname
· Choose a book with a picture of a mode of transport on the front
Mrs Thornton BA (Hons) MCLIP
School Librarian