Spotlight on Safeguarding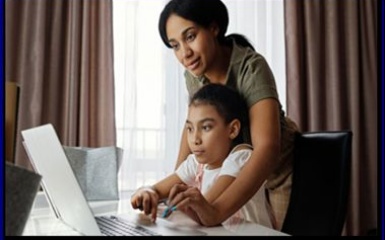 For your information this month, via the Newsletter, we are raising awareness of the issue of young people and parents staying mentally well during lockdown.
As we begin 2021, parents and carers have had to grapple with multiple concerns impacting their children as we entered another national lockdown. How would their children in exam years be assessed? How would parents/carers cope with homeschooling? And what would be the impact on their child's wellbeing with more disruption to their education? Anne Longfield the Children's Commissioner for England has stated that the impact of the pandemic on young people's mental health has been worrying when you consider that back in 2017, 1 in 9 children were considered to have a mental health disorder and by last summer this had leapt to 1 in 6. It is also important to consider the pressure on adults' mental health during this pandemic and the subsequent impact that this has on their children. The Lancet medical journal has reported that parents/carers who are suffering from psychological distress are more likely to have children who are suffering from a mental health problem and that support for them at this time is vital for the child's mental health.
There are many sources of support for parents and carers to help during this latest lockdown. YoungMinds offer a helpfinder on their website where parents/carers answer a series of questions to find out how they can support their child's mental health during the pandemic. The parent is then given advice specific to their circumstances and needs. There are also various apps available which can help with emotional wellbeing such as the Headspace app. There are meditation, sleep and mindfulness exercises, which you can access free. For those not familiar with mindfulness, it involves being engaged in the moment, being aware of your thoughts and feelings without distraction or judgment and it is known to help mental wellbeing. This link takes you to a sample of what Headspace offer for mindfulness:
https://www.headspace.com/mindfulness. Headspace also has a You Tube channel with many support videos available if you do not want to download the app.
Educational Psychologist Abigail Wright has come up with a number of tips which you may find useful in helping both you and your child: Equip your children with ways that they can give you verbal or visual cues to show that they are having a difficult time, which can act as a conversation starter; keeping friendships going by supporting those emotional connections they have with friends by having a games night, for example, although it does not need to be virtual as your child could post things to friends. Keeping a routine is vital according to Wright, although this should not be too rigid as then you could feel like you have not accomplished everything you set out to do. Finally taking care of yourself, taking 5 minutes to have your own time and consider the psychological concept of "good enough parenting," whereby it is fine to be good enough, rather than putting pressure on yourself to be the best you can be.
Where to get support:
YoungMinds - https://youngminds.org.uk/supporting-parents-helpfinder/
Headspace - https://www.headspace.com/headspace-meditation-app
NSPCC - https://www.nspcc.org.uk/keeping-children-safe/support-for-parents/mental-health-parenting/https://www.nspcc.org.uk/keeping-children-safe/support-for-parents/mental-health-parenting/
To see this article in full, with accompanying imagery, see page 26 of the January edition of the Headteacher's Newsletter.