Spotlight on Safeguarding...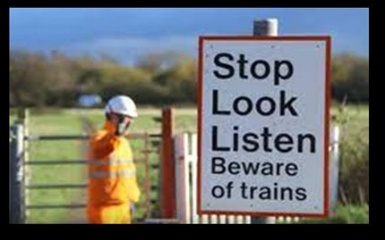 For your information this month, via the Newsletter, we are raising awareness of the issue of rail safety for young people.
Risk taking behaviour amongst some young people is not new and trespassing on railway lines is sadly a deadly risk that some teenagers have been taking for many years. The coronavirus pandemic has led to a steep increase in rail trespassing in the Southern regions with Sussex seeing a 40% increase since the beginning of the pandemic. This surge is part of a larger increase overall in recent years with rail safety data showing that between 2013 and 2018 there had been an 80% increase in incidents involving teenagers taking risks on railway tracks. Apart from the risk to life, the potential injuries are life changing. Network Rail have highlighted this by publicising a real life incident from 2014 with a then 16 year old Tom Hubbard. He climbed onto a parked train and was then electrocuted by 25,000 volts from overhead power cables and suffered third degree burns over 57% of his body. Another story featured by Network Rail involved a 16 year old girl called Tegan Stapleton who suffered a cardiac arrest, third-degree burns and her heart stopped beating for seven minutes when she ran across the tracks and fell onto the third rail. Both of these young people are still suffering physically and mentally since these life changing incidents. An impactful video from Network Rail can be found here: https://learnliveuk.com/network-rail-secondary-school-safety-talk/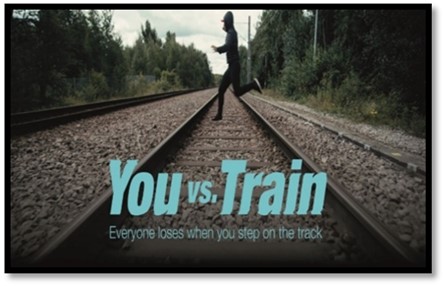 As we move into the summer months, awareness of these risks amongst young people is crucial as the number of young risk takers doubles during the summer compared to the winter months. Parents/carers and schools can actively communicate the dangers of trespassing on the railways by exploring Network Rail's new hard hitting safety campaign "You vs Train" which features real life stories and important facts about the dangers of railway trepassing. This recent campaign has revealed the current lack of awareness amongst some young people. According to Network Rail data, 31% of children don't believe that severe burns as a result of electrocution or electrocution by overhead wires are risks you might face if you go on the railway tracks. 15% believed that it was safe to walk on a railway track if you checked the timetable to check no trains are coming and 17% thought that getting a dropped/lost item (e.g. phone or football) from the railway track is relatively safe as long as you leave again straight away. Addressing these misconceptions is vitally important to reduce the number of tragedies that occur on the railways each year.
At Hazelwick School we teach rail safety to Year 7 students in PSHE lessons and students in other year groups will be watching the presentation from Network Rail on rail safety with their form tutors during the summer term. For further information, please see the links below which includes a campaign for parents/carers to explore with children at a young age which may be useful for younger siblings of Hazelwick students.
Where to get support and information:
Network Rail - https://youvstrain.co.uk/
Stay Safe with Thomas campaign - https://www.networkrailmediacentre.co.uk/news/joe-swash-fronts-new-campaign-teaching-children-about-rail-safety