St Catherine's Hospice Team Fundraising Events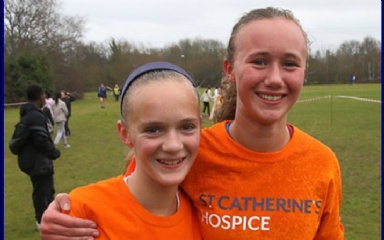 Hello, We are Team Goldfish and we were chosen by the school to raise as much money as possible for St Catherine's Hospice over 11 weeks.
Over this period, we have hosted a wide range of events for the students at Hazelwick such as bake sales and hot chocolate stands. The hot chocolate stand was a big fundraiser and was quite popular among the students. We also did a fun run where students joined with their friends to run laps around the school field. These students raised a lot of money through their sponsors from friends and family. It was pouring with rain, but that did not seem to dampen the spirits!
Other events have included a Non-Uniform Day and filling Smartie tubes with £1/20p coins. That also provided us with a full jar of Smarties to 'Guess the number of sweets in a jar'!
We are very grateful to our mentors Mr Croft and Mrs Bending for helping us make all the events possible as well as teachers within our school. We would also like to thank our Finance Team for all their work, and we really appreciate all the students and parents that helped us get this far in raising money for St Catherine's Hospice.
The Awards Evening will take place on Thursday 5th May. The awards will be composed of the Most Money Raised, The Pound Per Pupil Ratio Prize, the Best Presentation and the most Innovative Fundraising Award. We look forward to this evening with great anticipation!
Thank you for all of your support.