St Catherine's Hospice Team Fundraising Events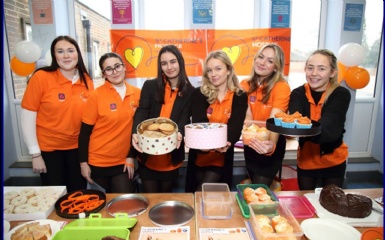 We are Team Pennies for Purpose and we were chosen by the school to raise as much money as possible for St Catherine's Hospice over the last 10 weeks.
During this period, we have hosted a wide range of events for the students at Hazelwick such as bake sales, a Valentine's event, bench ball and football competitions, which were all very popular among the students.
We also organised a Fun Run where students joined with their friends to run laps around the track on the school field; some wore orange and even fancy dress! The students raised a lot of money through sponsorship from friends and family. It may have been raining all day but this did not seem to dampen anyone's spirits!
Other events have included a Non-Uniform Day, an Easter Sale, Sixth Form Culture day and even a staff car wash!
We are very grateful to our mentors Mr Croft and Mrs Frost for helping us make all the events possible as well as all staff for offering help and support during the events.
We would like to take this opportunity to thank all the students and parents/carers that have helped us get this far in raising money for St Catherine's Hospice we really appreciate everyone's support.
The Awards Evening will take place on Thursday 27th April. The awards will include the Most Money Raised, The Pound Per Pupil Ratio Prize, the Best Presentation and the most Innovative Fundraising Award.
We look forward to this evening with great anticipation to find out how much we have raised as a school community.
Many Thanks,
Pennies for Purpose