St. Catherine's Hospice Youth Enterprise Challenge 2023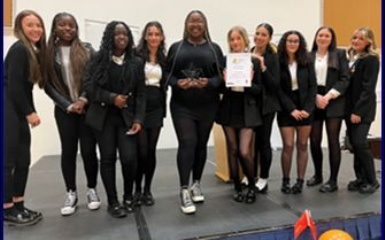 On 27th April Mr Croft, Mrs Frost and myself attended the presentation of the awards for the St. Catherine's Hospice Youth Enterprise Challenge Project. Awards were made in a number of categories; the most prestigious being the award for the highest amount of money raised.
I am delighted to report that, for the eleventh year running, the Hazelwick team of Courtney Wall, Salma Al-Moussaoui, Adom Apiagyei, Charity Stephens, Layla Savva, Carmen Frost, Jola Felix-Omonubi, Leanna Hughes, Emily Ferreira-Iodice and Sandra Mboya won this award with the absolutely incredible total of £10,064.00 (inclusive of Gift Aid). This is a truly amazing result; their target was £1500, s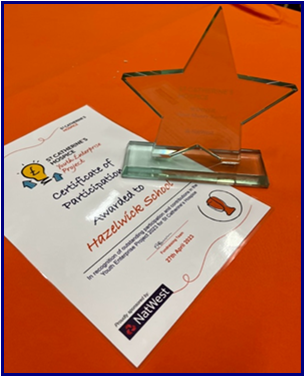 o to exceed that by over £8,500 is phenomenal. The students have worked incredibly hard showing total dedication and commitment to raising as much money as they could.
The total raised by the 8 schools participating in the Youth Challenge was £22,637.00.
The team organised a number of major fund-raisers, including non-uniform days, a fun run, cake sales, a car wash and sports events. The CEO and staff at St Catherine's Hospice were full of praise for the commitment that our students had shown. We are immensely proud of these students; they are an absolute credit to our school and deserve every praise for their incredible efforts.
Congratulations!
Ms Fearon