St Catherine's Youth Enterprise Challenge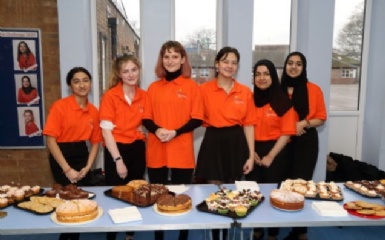 In this article you'll find details of the fund-raising activities organised by our wonderful team of students. The final figure has yet to be announced; we are sure that we have beaten our target of £1500, but by how much, we have yet to calculate. Fingers crossed for a record-breaking total!
Hello,
We are Team Wonderwomen and we were chosen by the school to raise as much money as possible for St Catherine's Hospice over 11 weeks. During this period, we have hosted a wide range of events for the students at Hazelwick, such as bake sales and a hot chocolate stand. The hot chocolate stand was a big fundraiser and very popular among the students. We also held a Fun Run where many students ran laps around the school field. These students raised a lot of money through sponsorship from friends and family. Pie the Teacher was a massive success, thanks to all the teachers who got involved and the students' kind donations. We also held a book sale, which included the sale of revision guides. The guides were generously donated by students in Years 12 and 13 and were then sold to current Year 10 and 11 students. We are also grateful for the involvement of our Year 10 team. They were active in raising funds through a lollipop roulette and one of them decided to raise money by dying his hair orange!
Due to the Coronavirus outbreak, we have had to curtail some of our activities but we hope that we have raised a significant amount of money for St Catherine's.
We are very grateful to our mentors Mr Croft and Mrs Bending for helping us make all the events possible and for the support of all the teachers within our school. It has been very rewarding bringing the Hazelwick community together. We would also like to thank the finance team for all their work, and we really appreciate all the students and parents/carers that helped us get this far in raising money for such a wonderful charity.
The awards evening will take place at Christ's Hospital School. There are awards to be won for the most money raised, pound per pupil ratio, best presentation and the most innovative fundraising idea. We look forward to this evening with great anticipation!
Thanks again for all your support and co-operation.
Team Wonderwomen