Summer Results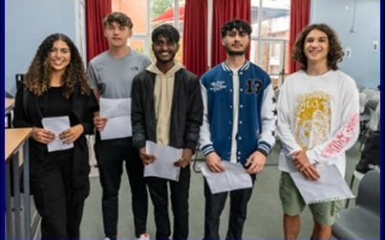 A-Level
At A-Level this summer, Hazelwick students achieved truly outstanding results. An amazing 37% of all A-level grades were A*/A with a spectacular 63% of all grades between A* and B, which is testament to students' hard work and determination.
Amongst these fantastic results were our highest attainers: Amy Hill with an immensely impressive A*, A*, A*, A* A* and Distinction; Hasaan Khan and Nicholas Ward both with A*, A*, A*, A*; Matthew Godsmark and Nana Agyemang both with A*, A*, A*; and Mariya Awan and Udit Agrawal both with A*, A*, A*, A.
Amongst our many high-achieving students, three have been accepted onto Oxbridge courses: Amy Hill (Maths at Cambridge), Supriya Finch (Modern and Medieval Languages at Cambridge) and Ebrahim Jadama (Spanish and Arabic at Oxford).
Other high-flyers have gone on to study a very wide range of subjects, including Amanah Badurdeen (Medicine at Brighton and Sussex Medical School), Matthew Godsmark (Electrical & Electronic Engineering at Imperial College, London), Hali Smith (Nursing, Mental Health at Leeds University) and Elan Silner (Apprenticeship in Engineering).
A huge number of Year 13 students moved on to university, with over a quarter gaining places at Russell group universities and 38% studying at those listed in the "top 40". We are immensely proud of all of our Sixth Form students and, most importantly, we are thrilled that every one of them were able to progress to their university of choice.
GCSE
Impressive Results
Once again, we were thrilled that our students achieved another set of fantastic GCSE results. Almost 80% of all GCSE grades were 9-4 (or equivalent) and almost 30% were "top" grades 9-7 (or equivalent).
Outstanding Progress
Here at Hazelwick, we are committed to enabling each and every student to make excellent progress, regardless of their prior attainment. With a phenomenal whole-school Progress 8 score of +0.65 (based on the 2019 formula), a huge number of our students achieved a progress score of +1 or higher, showing that on average in each of their subjects, they achieved a whole grade higher than national expectations. Many of last year's cohort achieved a score of +2 and some students even gained progress scores of +3 and +4, with one student hitting a score which showed that she achieved almost 6 grades higher than national expectations in every subject that she took.
To see this article in full, with accompanying imagery, see page 1 of the September edition of the Headteacher's Newsletter.