Town Sports Victory 2022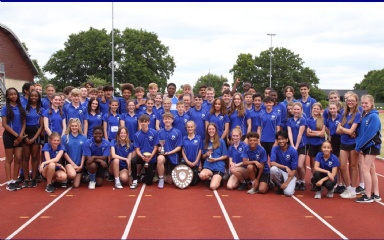 After a two year wait, we have finally been able to have a full school athletics season which has always traditionally finished with the 'Town Sports' competition at K2. Hazelwick have been competition winners for 10 years on the run, but we were a little nervous about this year's competition. So many of our students had never participated in an event like this before with heats and finals in many track events. After many hours spent over the selection of teams we set off on Tuesday 5th July to K2 with the aim of retaining the shield and as many age group categories as possible.
The students represented the school so well and put absolutely everything into each event, sometimes coming away a little battle scarred. There were many notable performances from both juniors (including some Year 7's) and intermediates. After some excellent relay performances to finish the day off it was time for the final results and award ceremony.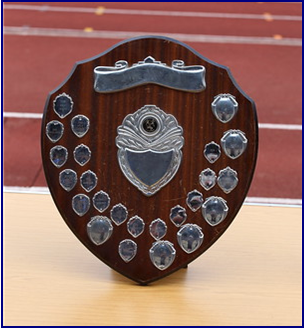 As I am sure you will know, Hazelwick retained the Town Sports shield winning 3 of the 4 age categories (Junior boys, Inter Girls, Inter Boys). Such a fantastic day was topped off with the traditional photograph (courtesy of Barry Holder).

Many of the participants worked hard at the school Athletics club throughout the summer competing at the friendly competitions and Track and Field cup. Our most able performers also join Crawley Athletics Club which is a brilliant club for them to get involved in. This years win demonstrates the rewards that can be achieved with hard work; effort achieves, as we say!

Well done to everyone involved in the day.
Finally, there are a few individuals to mention. Avive Silner from Year 7 equalled the school Year 7 high jump record of 1.30. All of the Year 10 athletes (pictured below) who have missed so much athletics over the last couple of years but have been such a fantastic group to have representing the school. Thank you! Hopefully some of you will compete for the school as seniors.
The Town Sports records go back some way. The 1500m Inter girls' previous record has been held since 1976 with a time of 5.07.6. Alice Cox came second running it in 4.58.02, a fantastic achievement. In the 80m Inter boys hurdles, Ali Moghul came second with a time of 11.93 beating the previous record of 12.16.
Well done to both.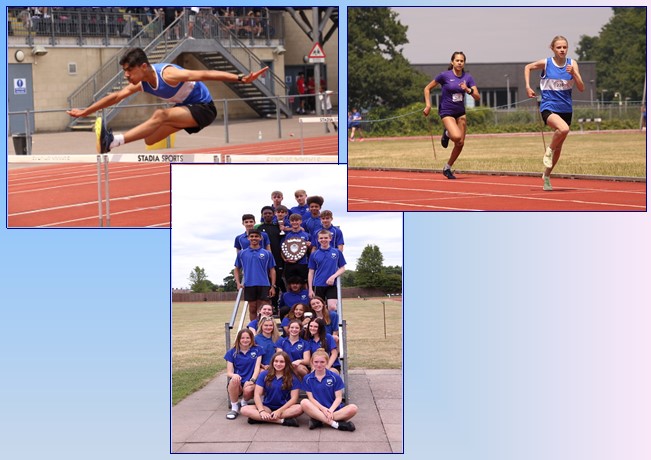 Town Sports Participants:
Year 7 & 8 Girls: Avive Silner, Emily Kadan, Callie Goodbourn, Emily Hamshaw, Jasmin Byrne, Zara Howe, Zoe Case, Ava Clark, Daniela Glavan, Sophie-Ella Prodger, Molly Brown, Megan Taylor, Mafalda Barros Vieira
Year 7 & 8 Boys: Zitelu Esiefho, Lucy Noel, George Frost, Jermaine Goyder, Samkelo Matsebula, Thomas Buckle, Yohan Mamodesen, Shrey Mathur, Aws Sawan, Joel Johnson-Cole, Kareem Hamrazadeh, Kian McDonnell, Oliver Davis, Billy Powis, Lucas Noel, Sonny Murphy
Year 9 & 10 Girls: Kirsten Goodbourn, Chovia Labor, Maya Taylor, Megan Howe, Lily Rickard, Eden White, Mae Maoundus, Amy Knock, Rebecca Lambert, Chloe Lyons, Lola McNaughton, Georgie McGlinchey, Grace Lovell, Erika Sait, Lucy Jellicoe
Year 9 & 10 Boys: Jaylen Ocaya, Thomas Brough, Jake Robins, Samuel Davis, James Morrison, Stuart Hargreaves, Toby Jenkins, Samuel Sprostranov, Ethan McGrath, Ali Moghul, Varun Nadarajah, Jack Duncan, Rafay Gul, Musa Donza, Tomas Hollan-Ellidge, Mark Dean, Zain E Mohammad