Year 9 Music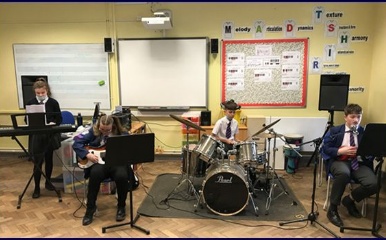 9B performed a range of popular music at the end of the winter term.
From Oasis to Adele, students worked hard to achieve slick performances of their chosen song. Many students worked on instruments that were new to them and learnt how to play with professionalism and rigour.
What a great way to end the term. Well done 9B!
On Thursday 11th February, there will be a virtual concert from our KS4 music students. This is a chance for students to perform the pieces/songs that they have been working on over the past term. The concert will culminate in a virtual performance project that our KS3 students have been working on.
The concert will be aired as an unlisted YouTube video, the link will be sent out to you a day in advance. I hope that you will be able to join us in celebrating the musical achievements of our students.
Mr Bayliss, Head of Music
To see this article in full, with accompanying imagery, see page 4 of the January edition of the Headteacher's Newsletter.