Inspire Years 12 & 13 Programme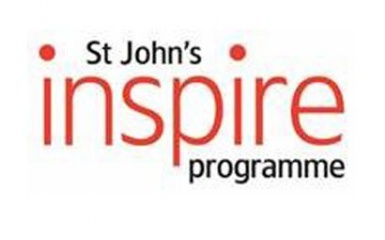 Following from our email last week, we are pleased to announce that applications for the St John's Inspire Programme for Years 12 and 13 (Inspire 12 & 13) 2022/23 are now open!
Pupils can sign up for the programme by following this link. We are also attaching a flyer and poster to this email for you to distribute within your schools. We would be very grateful if you could distribute these materials to any Year 12 pupils at your school who you think might be interested in the programme.
The Inspire 12 Programme is a free, two-year course designed to inspire, encourage, and support year 12 and 13 pupils during their final years of study before university. Our flexible programme offers pupils the opportunity to explore their favourite subjects in greater depth, receive up-to-date information about applying to university, and take part in opportunities that can be used in their personal statements, interviews, and CVs!
Pupils on the Inspire 12 programme have access to:
Academic Taster Lectures
Inspire Research Project
Study Days and Subject Exploration Days
Residential and Virtual Summer Schools
Study and revision skills sessions
Resources to help the transition to life at university
This programme is open to Year 12 pupils currently studying at a non-selective state school in the following regions: Brighton and Hove – Buckinghamshire – Ealing - East Sussex - Forest of Dean - Hampshire – Harrow – Hounslow – Kent - Kingston-upon-Thames – Medway – Portsmouth – Southampton – Surrey - The Isle of Wight - West Sussex. If you are unsure whether your school is in one of these regions, please get in contact with us at inspire@sjc.ox.ac.uk.
Students should be predicted AAB at A-Level (or equivalent) to be eligible. However, we accept applicants on a case-by-case basis. If you have a pupil who has experienced exceptional circumstances which means they haven't been predicted grades that reflect their true potential, please email us at Inspire@sjc.ox.ac.uk
Applications will remain open until Tuesday the 31st January 2023.
Further information about the course can be found on our central college website, our Inspire Digital Platform as well as our social media accounts on Instagram (sjc_access) and twitter (@sjc_access).
Kind regards,
The Inspire Team