Speakers4Schools - Upcoming Live Broadcasts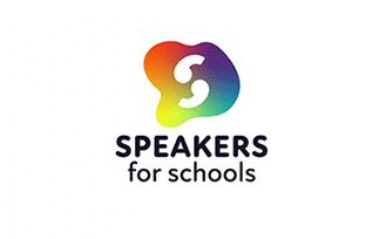 Here is the upcoming live broadcasts schedule. Live broadcasts are a great way for students to hear directly from leading figures from a range of industries, and have the opportunity to ask questions via a moderated Q&A. Please note that you must register in advance to participate in the live broadcast by clicking the relevant link on the webpage or in the table below.
We have just announced a talk as part of the Windrush 75th Anniversary with Geoff Thompson MBE DL, Deputy Chair, Birmingham 2022 Commonwealth Games & Member, Windrush Commemoration Committee on 22nd June.
Upcoming Talks
DATE

SPEAKER

INFO

Monday 5th June 10-10:45am

Prof. Matthew Inada-Kim, Consultant acute medicine, national clinical director infection, antimicrobial resistance and deterioration

For KS3-5/S1-6

Matt is a highly regarded doctor with many years of experience. He is a chair of the COVID pathways group and the national lead for sepsis at NHS England and is part of the COVID clinical reference group for primary care, care homes, & hospitals. He has developed and co-led the virtual ward model, and the COVID management guidance/policy. In this broadcast hear about the world of infection & how it can lead to sepsis and how doctors tackled COVID.

Click here to register

Tuesday 6th June 10-10:45am

Dr. Radha Modgil, NHS GP, Broadcaster & Campaigner for wellbeing

For KS3/S1-3

Join this broadcast with Dr Radha Modgil, a practising NHS GP, media presenter, broadcaster and wellbeing advocate. Best question asked will win in a copy of Know Your Own Power a book that aims to help you unlock this power – from dealing with crisis to understanding challenges. It will help you to understand yourself more, and make decisions living from your truth, as well as dealing with setbacks along the way. Above all, it will also help you not feel so alone in your struggles.

Click here to register

Friday 9th June 10-10:45am

What is HR? Robbie Dagger, People (HR) Director, Tesco

For KS3/S1-3

Human Resources or HR as it's more commonly known is a huge part of running a company. But what is it? Why are there so many jobs in this department and what does it entail? People Director, Robbie Dagger will work to demystify HR so you can see if this is something that might interest you.

Click here to register

Wednesday 14th June 10-10:45am

Fake News Online:Rory Cellan-Jones, Founder, RCJ Media Ltd

For KS3/S1-3

When using social media for learning, it can be difficult to know whether what you are reading is true and has been fact-checked or is just someone's opinion on a subject. It's really important for us to be able to know and spot the difference so we don't spread 'fake news' or harmful ideas. In this broadcast we will hear about how you can be more aware of 'fake news' and how to spot it.

Click here to register

Tuesday 20th June 10-10:45am

PRIDE: Diversity and Inclusion. Ian Adams, Director of Membership and Stakeholder Engagement / Director of Communications and Engagement, NHS

For KS3-5/S1-6

Being Proud of Pride: Diversity and Inclusion - In this broadcast, which is a part of our PRIDE Campaign, we will hear from internationally recognised LGBT+ role model and regular public speaker, Ian Adams. We will be talking about the importance of acceptance and Diversity and Inclusion while in schools, in work, or anywhere else.

Click here to register

Thursday 22nd June 2-2:45pm

WINDRUSH 75TH ANNIVERSARY TALK with Geoff Thompson MBE DL, Deputy Chair, Birmingham 2022 Commonwealth Games & Member, Windrush Commemoration Committee

For KS3-5/S1-6

It has been 75 years since the HMT Empire Windrush docked in Tilbury, Essex, on 22 June 1948 bringing 492 passengers to the UK from a number of Caribbean islands. This broadcast celebrates Windrush's 75th anniversary and aims to inform young people about how the Windrush generation arrived in the UK and what their impact has had on modern Britain. Hear from Geoff Thompson, former 5 times world karate champion, about his personal Windrush story.

Click here to register
National Teen Book Club
National Teen Book Club, The Proud Trust and Penguin are back with our last LGBT+ Book Club pilot session on the 29th June! We will be discussing The Passing Playbook with the author themselves, Isaac Fitzsimmons!
If you would like to join us, please do register your group here.
How to Join the Live Broadcasts
Join 10 minutes before the broadcast to be ready.
You can join without needing an account – Watch how here
Watch previous talks on our library here.
Are you interested in hearing about careers in the music sector? Watch Louis Bloom, President, Island Records UK, talk about running a major music label. Or watch Karen Emanuel, CEO, Key Production Group, discuss her company specialising in the design and manufacture of Vinyl CDs, DVDs, and cassettes.
From all of us at Speakers for Schools, we hope you enjoy the live broadcasts programme!
Best wishes,
Christabel Williams
(Speaker and School Engagement Coordinator)